These pizzas will surprise you!
They are delicious and
big enough for two!
Pepperoni
Loads of pepperoni heaped upon
melted mozzarella cheese!
DeLuxe
It's all here...pepperoni, sausage,
green & red peppers, onions, olives
and mozzarella cheese!

Your Choice, Only $6.00 each!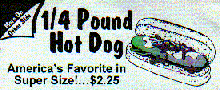 Try one of these other great
Sandwiches for only $2.75
All served with potato salas & pickle
Beer Brat by Johnsonville..This is the
#1 selling brat in the U.S. Delicious!
Hot Link .. For the person that wants a little more spice!
Smoked Sausage .. Delicious smoked
flavor makes this a hit!
Keilbasa .. It's a must to have sauerkraut on this one!